The Don takes charge
He's been handed ministerial power at last, but Don Foster is still keeping a close eye on his old backbench stomping ground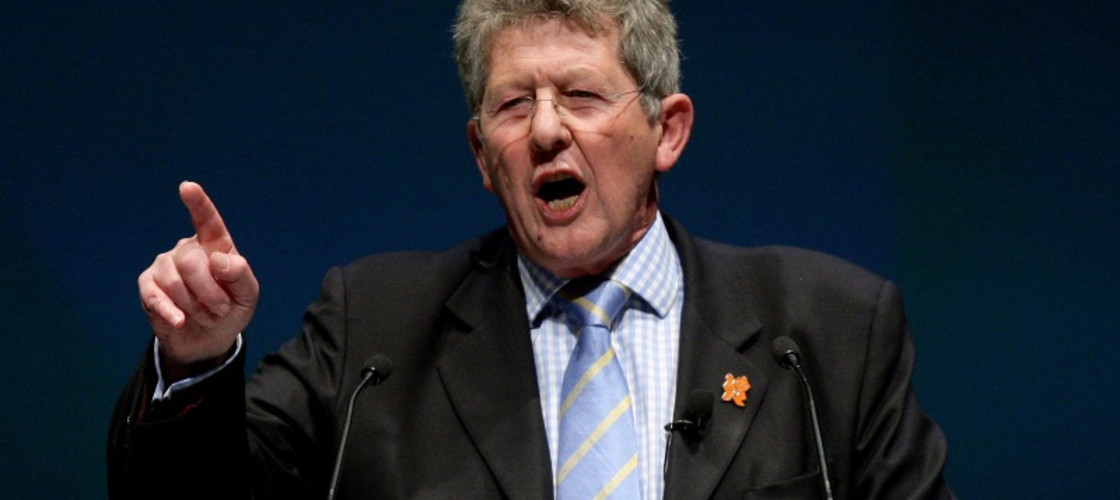 At 65 years old, most politicians are winding down their pace of life. Not so if you're a Liberal Democrat. In Government for the first time since the war, in 2010 ministerial roles where handed to three Lib Dems – Vince Cable, Andrew Stunell, and Tom McNally – who were all approaching 70.
Half way through this Parliament's lifetime, following the September reshuffle, Don Foster has become the newest oldest Lib Dem member of the Government, appointed to the Department for Communities and Local Government in a straight swap for the outgoing Stunell.
It is, he says, putting into practice a policy he once promoted during a stint as the Lib Dem Education Spokesman in the 1990s. "This is an absolute example of a really good life-long learning opportunity," Foster declares, pointing out that within 24 hours as a Minister "I was leading a debate on something I had previously known precious little about, namely building regulations."
A select committee questioning on community rights followed quickly on, as did a round of department questions. "I think people will understand that a lot of very late nights, or no nights at all in two nights' cases, were expended on learning a lot," he says, sounding remarkably full of energy despite the sleep shortfall.
In fact, judging by his upbeat mood, Don Foster is relishing the chance to get to grips with ministerial life.
Some were surprised that this loyalist Lib Dem, with a long shift as the party's DCMS spokesman behind him, took this long to make the – Government pay – grade, but Foster insists he was perfectly happy to have been left out of the 2010 appointments.
"One of the fantastic things I did for the first two-and-a-half years of this Government was to represent the Liberal Democrats at film premieres, at football matches, at rugby matches, at plays, at the BAFTA awards, and so on. It was hardly a big sacrifice to lose out first time round. I loved representing the Liberal Democrats in that way. Somebody had to do it. I was prepared to step up to the plate", he replies, breaking into a mischievous smile. And now?
"All of those opportunities suddenly have passed me by, and I'm now invited to conferences in relation to building regulations. Readers can make their own decisions to whether I totally miss what I did before or not…."
Foster is chatting in a pokey Parliamentary interview room. For years he worked tirelessly to whip up media attention, press releasing his frustration with everything from a rise in Christmas repeats on the TV schedules to the unacceptably high price of popcorn at high street cinemas. Today, flanked by a Special Adviser and a departmental Press Officer, Foster has a new challenge: to make news only once the appropriate departmental hoops have been jumped through.
So when pressed on whether he will be advancing the case for the Lib Dem policy of a mansion tax, the new Minister does both Government-friendly answer – "that's a battle that will be fought at a much higher pay-grade than I am at" – and party line – it's "vital" to ensure that "those with the greatest wealth are carrying the heaviest burden" – in one. So far, so on-message.
But why not review the current Council Tax rates, still based on 1991 property price estimates and decried as "fossilised" in a Lib Dem policy paper? Foster is wary of being drawn into a "really difficult" area, albeit one that "has to be looked at", and sticks firmly to the script when he insists that "it's not going to be looked at within this Parliament."
But afterwards? "It's certainly an issue I think should be looked at, but I'm making no commitment on behalf of either the Liberal Democrats or the Coalition Government. A decision has not been made on that."
And on the Government's proposals to ease up planning regulations, a policy rejected by Lib Dem members at their Autumn conference, Foster is similarly cautious, saying: "On some of the controversial issues there is consultation taking place, it is not yet a done deal. I'm confident that in some areas we will see either a clearer explanation of the way forward, or some changes to what might be happening."
Foster's brief also takes in specific responsibility for integration and race equality, a potentially tricky area for the Coalition given the contrasting views put forward by David Cameron and Nick Clegg on the merits of multiculturalism. "I'm not really too hung up on the definition,whether it's multicultural, whether its integration, whatever you want to call it. What I think really matters is finding ways, practical ways, of bringing different peoplewithin our community together," Foster states, side-stepping any risk of side-taking and preferring to focus on progress made with policies regarding faith organisations, cooking, and a new a music-based community innovation called Bandstand. "There's a huge amount of really good work being done in the Department. Whether you call that multicultural or not, hey, I'm not really very wound up. I'm much more concerned with making it happen."
But has state multiculturalism failed, as the Prime Minister has argued? "Whenever anybody makes a statement they then go on and define it, and if you just look at the bald statement 'state multiculturalism has failed', then you can query whether it's a good thing to have said," Foster replies, cautiously. "But if you look at the speeches that have said that, they go on to define that interpretation of multiculturalism, which is something I would agree with. If all you do is try to do those activities that allow communities to remain in isolation from other communities, then that fails all of us. It fails them and it fails the rest of us. So, in that sense, it has failed, and as long as speeches that say 'state multiculturalism has failed' are done in such a way that they define the meaning of the terms, then I wouldn't disagree with them."
While he learns the DCLG brief, Foster remains fully on top of his old DCMS remit. A staunch defender of the BBC, he insists that while the fallout of the Jimmy Savile scandal is "an issue they've really got to get to grips with" it does not constitute the Beeb's darkest hour. "The problem is, with any very large organisation, whether it's the BBC or any other, if you were to look back in history about some of the things that went on, you would find unacceptable behaviour taking place. Let's be dead honest, unacceptable behaviour was taking place in the Palace of Westminster, with MPs' expenses. This is a particularly appalling thing that has happened and I'm really pleased that, at last, we're getting to grips with it. But to say it is, you know, a crisis that will bring down the BBC – I think, frankly, the BBC is big enough to cope with that".
He admits that ongoing inquiries may result in changes to "procedures, practices, and possibly even personnel", but slaps down any suggestion, as made by some Tory MPs, that BBC chairman Chris Patten may have to quit. And Foster, who took Patten's Bath seat in 1992, should know.
"I've always, even at that time and, in fact, long before, had a very high regard for Chris Patten. I think he's the ideal person to be doing this job. I have absolute confidence that he will see this through. If anybody is suggesting that Chris Patten is not the person to be in charge at the moment, I think they're totally wrong. He's absolutely the right person, but it's going to be difficult for him, just as it is for George Entwistle and other senior members of the BBC, of course it is."
With Lord Justice Leveson about to report on his enquiry into media ethics, another concern is the future of press regulation. Foster hopes that Leveson will put forward a system of "self-regulation that incorporates clear assurances that everybody has to be involved in it, so you can't have newspapers just walking away."
Such a body would be "an independent – independent of Government, independent of newspaper editors – regulatory regime", with a "statutory backstop that people can go to if they don't feel they've had satisfaction. I'm looking, I'm suspecting even, that something along those lines – tougher self-regulation but with statutory backstop powers – will be built in."
And should be accepted by Government? "Anything I say at this stage is said as an individual, not in my ministerial capacity," he begins, calming any nerves amongst his DCLG entourage. "If you believe in independent judicial inquiries… then there is a very big responsibility on people to accept whatever comes out of the Leveson Inquiry."
And, he says, legislation should follow in this Parliament. "My understanding is... that a slot is available in the legislative timetable between now and 2015, so that we can, if necessary, legislate on anything that comes out of Leveson. But I'm not a business-manager, it's beyond my pay-grade."
With that, Don Foster slips back into his pay grade and gets the nod that it's time for the next ministerial appointment: his diary is more packed than ever.
This time last year, however, a less busy Foster was forced to put out a press release denying that he was about to release a Christmas single featuring his apparently accomplished ukulele playing. Presumably the demands of a Government Minister means no denial is needed in 2012?
"I am not going to be denying I'm going for Christmas One," Foster interjects. "I've been rehearsing vigorously and, in fact, this weekend I spent quite a lot of time with my nine year-old grandchild playing my ukulele. I'm getting better and better as the days progress, so I'll certainly not deny my attempt to go for Number One. But I have not yet made an announcement of my intention because there are other things that have been put in my way. The possibility of X Factor has been raised, so maybe, just maybe, that is a way to reach yet more people than just going for a Christmas Number One. Time will tell."
Is he joking? Probably. But then Vince Cable, foxtrotting his way through Strictly Come Dancing, showed that anything is possible for sexagenarian Liberal Democrat ministers.
Whether Don Foster is a safe bet for Christmas Number One is another matter however, but then a few years ago the odds on him becoming a Government minister would have been astronomical too. This lifelong learner is firmly on an upward curve.