Anna Soubry interview: Tory eurosceptics need to take a chill pill
"Everyone has to remember why and how they got elected – they got elected because of Cameron's leadership. Anyone who thinks otherwise is deluding themselves."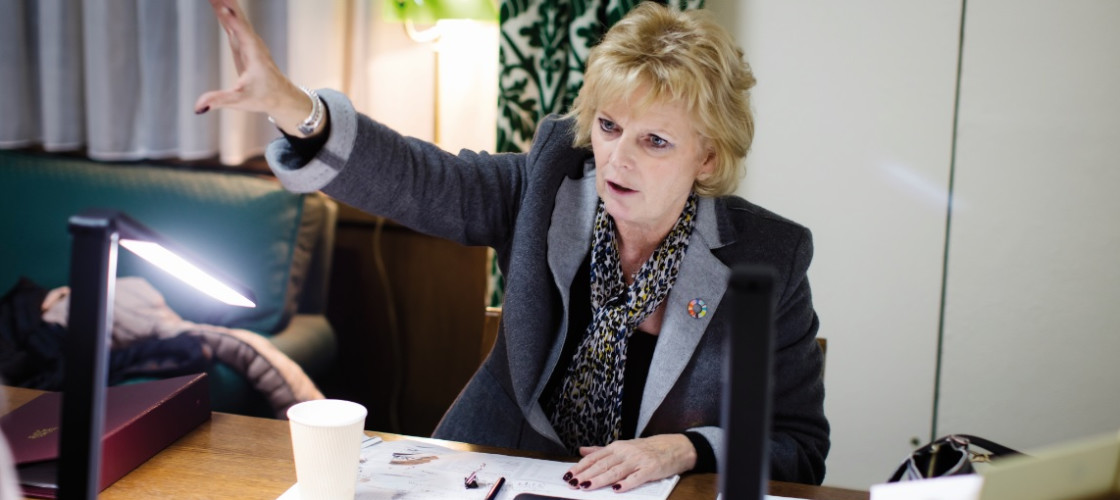 Anna Soubry has a large, pop art portrait of Margaret Thatcher waiting to be mounted in her House of Commons office. The painting, by an artist in her constituency, shows the Iron Lady in familiar pose as she delivers another barnstorming address to the party faithful.
But whatever you do, don't compare the Minister for Small Business, Industry and Enterprise with the former Prime Minister.
"I get very cross when people say that," she says. "It's sexist. It's because I'm a woman of a certain age with blonde hair."
There may be some physical similarities, but politically Soubry and Lady T could scarcely be further apart while being in the same party. In fact, the MP for Broxtowe even quit the Conservatives during Mrs Thatcher's first term in Number 10 because she was so at odds with the radical economic policies her government was pursuing.
She says: "I was fed up, I didn't like the way the party was going. It was the very early 80s. It wasn't because we were unpopular, it was because I didn't agree with a lot of what was going on."
Soubry rejects rumours that she joined the nascent SDP – "a terrible lie that is put about" – but is unashamedly what Lady Thatcher would have called a "wet".
"I'm a Tory like my parents were Tory and they were Macmillan-ites'," she says. "I'm very loyal to my party – I know I'm a Tory and I'm very proud to be a Tory. I'm blue but many would say I've got lots of pink edges – I think I'm a true Tory, but I'm quite happy to be called a pinko though."
Her pinkish hue has shone through in her support for same sex marriage, while she has also previously backed the legalisation of cannabis.
That is not to say, however, that she would ever countenance joining Labour – especially not in their present incarnation. The former journalist and lawyer, it is fair to say, is no fan of Corbynomics.
She says: "They are in a very bad place. I want a credible, strong Labour Party. That sounds bizarre of course because many pundits are saying at this rate we're going to be in power for the next 10 or 20 years. But you need good, strong opposition. It's good for democracy because it's about holding the Government to account and having the debate, giving people alternatives, arguing about those alternatives and winning arguments and winning hearts and minds.
"Jeremy Corbyn is providing an alternative, but it's an alternative that was rejected decades ago. It is quite remarkable. I find myself transported back to the 60s and the 70s with these old debates."
The 58-year-old goes on: "I've never met Jeremy – like most of his own MPs – and I don't doubt for one moment that he is a very nice man.
"One of the problems he has is that he doesn't seem to have ever done a job. The biggest decision he's probably ever made is what the veggie option would be at the buffet after the Outer Mongolian Basket-weavers Solidarity meeting.
"He was a councillor, which is admirable, but I don't think he even chaired a committee. Leadership is about the ability to take tough decisions amongst other things."
One area where Corbyn has shown an "appalling" lack of leadership, Soubry says, is on whether Britain should support the US-led bombing of Isil targets in Syria. David Cameron is re-doubling his efforts to win a Commons majority for military action, while Labour's position remains mired in confusion.
History will not look kindly on this generation of politicians if Britain continues to stand on the sidelines, says the former Defence Minister. "I'm a pink Tory, but on this one I'm an absolute hawk," she says. "And I was somebody who was very much opposed to the invasion of Iraq and I'm saddened that I was proved right.
"Work with Putin? No problem. Go through the UN, do all the diplomacy, bring the Turks on board, bring the ruddy Saudis, bring anybody in, but ultimately we cannot stand by and just think this is all about disengaged youth in Muslim communities.
"This is on a scale that we've never seen before. There was a movement in the 30s when we knew what was going on with the Nazis – we knew they were rounding up Jews, the disabled and gay people. We knew what was happening and we stood by for too long."
In the absence of a united opposition, many have predicted that David Cameron's main political problems will be caused by those sitting behind, rather than in front, of him.
The EU referendum campaign is now underway, and the Tory critics of the Prime Minister's renegotiation strategy are getting louder. The europhile Soubry has some typically outspoken advice for Mr Cameron: "Get on with it".
She says: "I can't imagine any circumstances in which I could vote in favour of us leaving. I am very much someone who believes our best interests are served in the European Union, and I want to see a reformed European Union.
"We need to get on with these negotiations and what the PM is trying to achieve. But business like certainty, and ordinary people want certainty, and they want to know where they are. And I'm sure he would never allow it to drift. I'm sure he won't let that happen."
The former TV presenter also has a message for Mr Cameron's critics, who say his demands are too weak. "The most important thing in my party is that everyone must remember why and how they got elected and they got elected because of Cameron's leadership," says Soubry.
"And anyone who thinks otherwise is deluding themselves. I could say 'I did so well, I'm marvellous, I went from a majority of 359 to over 4,000, that's because of me'. No it's not. It was because the message we put out there resonated with the good people of our constituencies and that came from Cameron, as well as Osborne on the economy.
"Just take a chill pill. Everybody calm down, dear."
After nearly two years at the Ministry of Defence, Soubry took on her business brief the day after the Tories' stunning election victory. Her first six months have been eventful, with the collapse of the steel industry the main focus of her attention. The job, she says, "is not stressful, but it is knackering".
She says: "Defence was good, but this is very different and a step up as well – being in the Cabinet, being number two to Sajid Javid, working closely with him. We've had good and bad, we've had all the problems we've got with the steel industry, but it's great to be in a position where you can make decisions."
Trade unions and Labour have accused the Government of not doing enough to save the steel industry, or provide help for the thousands of workers thrown on the dole. Unsurprisingly, this is not a point of view to which Soubry subscribes.
"Government can't control the price of steel," she says. "The truth is that slab, which is what they made up in Redcar, has halved in 12 months. Understandably, everyone was desperate to put together this deal, but it was a very strange deal from the outset.
"The deal was that this Thai company was going to make slab in Redcar and then ship it over to be rolled in Thailand at a time when the price of slab was plummeting because of the over-production and under-consumption in the world, notably cheap production in China. That's why they lost £600 million in three years. It was never ever going to happen for them and it's incredibly sad because it's over 2,000 jobs in an area that's made steel for over 150 years."
She also rejects the suggestion, made by Shadow Chancellor John McDonnell, that the Government could nationalise parts of the industry to keep it afloat. She says: "Unfortunately, huge chunks of the British steel industry are losing huge amounts of money – hundreds upon hundreds of millions of pounds. No government can just nationalise the steel industry. It's taxpayers' money and they wouldn't tolerate up to a billion pounds a year."
That is not to say ministers have stood idly by, she insists. "We've put in a package of £40 million in direct support, found a place for all 50 apprenticeships," Soubry says. "That was an astonishing achievement. We found the money to continue their training and pay their wages. This is the future – these are people doing good jobs and getting real skills and it was absolutely critical to do it."
Her other priorities for the brief include winning a better deal on energy prices for energy-intensive industries. She also wants to make life easier for small businesses. "I want superfast broadband to be seen as the fourth utility in every new business and home," she says.
"It's also a chuffing disgrace why it takes BT 45 days to install a telephone line, and I want small businesses to be able to open a bank account in less than two days."
But for someone with a well-earned reputation for straight-talking, Soubry is surprisingly reluctant to rule herself out of the running for the Conservative leadership when David Cameron finally calls it a day. Education Secretary Nicky Morgan has said it's time to have a woman at the helm again, while Theresa May's ambition is well-known. Asked whether she fancied taking on the top job, it takes Soubry several attempts to come up with a less than convincing denial.
She says: "I don't really have an ambition. I'm 58. I don't know. Nobody wants me to be leader. The only person who wants me to be leader of the Tory Party is Andrew Percy. Of course I can rule it out. There's no way I'm going to be leader of the Conservative Party. There are a lot of other people who have more ability than I have."
Who knows, her pop art portrait of Lady T could yet end up hanging on the walls of Number 10.