Sadiq Khan: "Londoners will see through the desperate tactics of the Tories"
The mayoral campaign may have taken a negative turn, but Sadiq Khan tells Daniel Bond of his optimism for London, his vision for the 'greatest city in the world' – and how he'd even share a platform with a Conservative Prime Minister…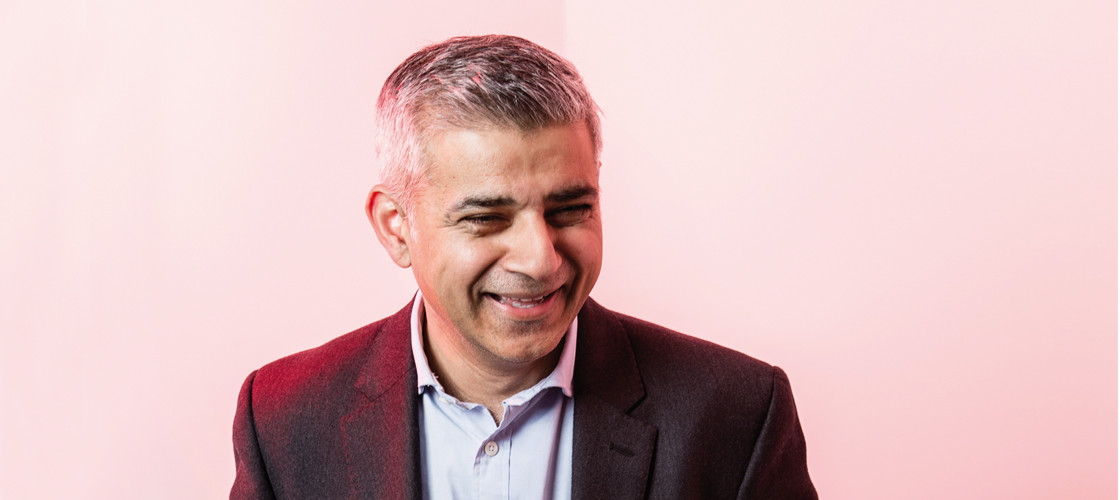 The first skill they teach you in boxing is defence; how to move, how to stay nimble on your feet, how to avoid your opponent's punches.
It's a lesson the keen boxer Sadiq Khan learnt from a young age, as the Conservatives are now finding out; for several months their attempts to land a blow and depict the Labour candidate for London mayor as a far-left radical, an acolyte of Jeremy Corbyn gearing up to hit the capital's wealthy, have proven unsuccessful. The agile Khan has taken every opportunity to distance himself from his party's leader and woo sceptics with pledges to be the "most pro-business" mayor ever.  
But earlier this month the Tories took their biggest swing yet. Michael Fallon, the defence secretary, claimed that Khan, who is aiming to become the first Muslim mayor of the capital, was a "lackey" whose links with Islamic "extremists" made him "unfit" to protect Londoners from terrorism.
Khan's team immediately condemned the accusation, which they said "demeaned" Fallon's high office. Many Conservatives also fear the Defence Secretary went too far, and Zac Goldsmith himself avoided comment. But with just under 50 days to go until the vote, does it set the tone for what could be a nasty campaign?
Reflecting on the remarks when he meets with The House this week, Khan is clear that ultimate responsibility has to lie with the Conservative candidate. "When you're a politician you receive advice all the time, I mean genuinely. Often the advice you receive is different to your gut instinct. Sometimes you'll take the advice and sometimes you'll reject it," he says. "But the advisers are only there to advise you, it's you as a politician who makes the decision on what to do. It's too easy and it lets him off the hook to blame his advisers for the desperate tactics. You've got to be accountable for the conduct of the campaign."
But it has also, he insists, had far from the desired effect.
"I've got to tell you that's been nothing but good for my strategy for winning on May 5th. We've had more and more people joining our campaign outraged at the conduct of the Goldsmith campaign. Whether I'm in Bromley or Balham or Islington or Isleworth, I've had people tell me how disgusted they are with that.
"You know, I'm an eternal optimist. I think that Londoners will see through the desperate tactics of the Tories. The problem is, in the meantime it's been terribly depressing. It's been upsetting. It's been not the sort of stuff I expected, if I'm honest."
Any attempt to steer the campaign towards a negative war of words will fail to impress voters, he says, adding that it is simply more evidence of a candidate who fails to understand the pride Londoners take in their diversity.  
"My view is it just demonstrates how wrong he'd be to be the Mayor of London," he says. "I think one of the best things about London is our openness to ideas and to people. We don't only tolerate difference, we respect it and we celebrate it. I remember 2012, in my living room with many family and friends, cheering on a black, African-origin asylum seeker called Mohammed Farah, the best sports person this country has ever produced. We saw last year how much we cheered when Nadia Hussain became the Great British Bake Off champion. I've actually downloaded Zayn Malik's first single, Pillowtalk.
"That's the great thing about this country. You can be a Londoner, you can be British you can be Muslim, you can be of Asian origin, and you can be a long suffering Liverpool fan. That's the great thing about our country."
He adds: "I think those who are conducting this campaign should bear in mind that the consequences of some of their actions could be somebody thinking about a career in politics might think against it, somebody who is a parent or an uncle or an auntie whose son or daughter or nephew or niece says they want to get involved in politics might say 'you know what son, you know what sweetheart, did you see what happened to Sadiq Khan? Don't do it.' And that would be tragic for us as a city but tragic for our country as well.
"All I'd say is this: when this campaign is finished, when the election is done and dusted, I hope our city will be more united than we are."
Khan talks passionately about his upbringing in the capital; the son a bus driver, raised in a multi-ethnic community on a council estate in the area now represents as an MP. London's "social mix", he says, is one of its greatest assets.
But he fears it's under threat as the housing crisis prices ordinary families out of larger and larger swathes of the capital.
"When I was going to school in my class there were kids whose mums or dads could be a teacher or a doctor or a journalist, with me a bus driver's son, friends of mine were posties' sons. That's a great thing about London.
"My worry is that will change. Just think of Paris, think of New York. We've got to make it affordable, otherwise London is in danger of changing forever. And it's a one way change, it's not going to change back to what it was before. That's why this is crucial, and that's why at the front and centre of my campaign is a plan to tackle the housing crisis.
"I'm trying to persuade Londoners that Mayors can do a huge amount. There's one school of thought that says the job of the mayor is to make jokes, cut ribbons and walk the red carpet. I can do that by the way. There's another school of thought that says that a mayor can work with developers, work with councils, work with local authorities and tackle the housing crisis."
Opinion polls are still suffering from a trust problem following last year's general election, but most put the Labour candidate consistently in the lead. The latest YouGov survey has Khan on 32%, with his Conservative opponent on 25% – but with as many as 23% of those polled still undecided, there is a lot to play for. Khan says he is confident about making it to City Hall, but is taking nothing for granted. 
 "I'm the least complacent person you'll find, but I'm quietly confident," he says. "The more I speak to Londoners and listen to them – whether its chief executives or bus drivers or junior doctors or people working in public services – and I'm quietly confident.
"We're working our socks off. It's a source of pride to me that we've been working hard with Jewish communities, Muslim communities, Sikh, Hindu, Buddhist, African-Caribbean communities. However you cut and splice it we've been working across the piece – going to factories, going to shopping centres, to make sure we speak to everyone."
Khan's colleague in the House of Commons, Chuka Umunna, warned recently that Labour was "shedding votes from different ethnic minority communities", with most going to the Conservatives. Umunna and veteran MP Keith Vaz have launched an inquiry into the party's falling share of the vote. Is it something that concerns Khan?
"I think the school of thought that said that basically just because you're BAME you vote Labour, that's gone," he explains.
"We became lazy in the past. I remember chairing an inquiry looking at how we lost the Bradford by-election [in 2012]. What I found was there were some politicians in parts of the country who are basically lazy and they rely upon gatekeeper politics – because your dad voted Labour or your mum voted Labour you're going to vote Labour, or you knock on the door and there might be six people registered, but rather than speaking to all six of you'll speak to the head of the household and he'll tell you how they're going to vote, or you'll speak to the local imam and he'll say 'those streets are going to vote Labour'. Those days are gone. We've got to earn everyone's vote.
"That complacency doesn't exist in my campaign. I think it's a good thing that there is a competition for these votes, because that will raise all our games. Competition is a good thing. Meritocracy is good for me, because I think I'm worthy of their vote."
But while Khan will be confident of Labour's BAME vote generally holding up in May's election, he knows the Jewish vote in particular could be a different story. In the days following his selection last autumn Khan set out to reset his party's relationship with the capital's Jewish community, which had fallen into disrepair during Ken Livingstone's time in City Hall. "I want to reassure you I'm not like the last guy," he told the Jewish Chronicle early on. "For me it's a source of sorrow that people who historically voted Labour are now not voting Labour."
But after a number of recent incidents of alleged anti-Semitism among fringe Labour figures – including a row this week over a series of tweets from a former parliamentary candidate in Woking – Khan has been left angered by the party leadership's response.
"For me it's disgraceful if there is an impression left that there is anti-Semitism in the Labour party," he says. "It worries me, the impression left with the way the recent incident in the last few days has been dealt with by the leadership."
He says he is pleased that Baroness Royal – "who's somebody I trust" – has been put in charge of investigating allegations of anti-Semitism among student groups, but adds: "I think if you're the leader of the Labour party you should be saying unequivocally, as loud as you can, there is no place, not simply in society but in the Labour party, for anybody with anti-Semitic views. Zero tolerance for anti-Semitism. We need to have a quick investigation and if anybody is found to have views that are anti-Semitic there is no place for them in the Labour party."
He continues: "For me, as somebody wishing to be the Mayor of London, it's a badge of shame that in 2016 places of worship need protection 24/7 because they're synagogues. Schools in London – I kid you not – schools in London have protection provided simply because they're Jewish faith schools. Last year there was a huge increase in anti-Semitic incidents across London. So we've got to recognise it's a scourge in our society.
"I don't feel comfortable as a Londoner living in a city where fellow Londoners don't feel safe walking the streets because they happen to be Jewish, or don't think that the Labour party is for them because they're Jewish.
"It's much more important than trying to get their vote. That's the sort of sixth, seventh, eighth issue. The really important issue is you are a mainstream party, Her Majesty's Official Opposition, you want to be the next government, you need to make clear in an unambiguous way that there is no place, no ifs no buts, for anti-Semitism in the party and in society."  
If the negative attacks from Zac Goldsmith's campaign are evidence that he fails to understand London, then so too, Khan says, is his backing for Brexit.
Khan intends to play a leading role in the campaign to keep Britain in the EU, something he says is critical to London's future, even if that means sharing a platform with a Conservative Prime Minister. "Without any hesitation at all," he says. "I'll campaign with a Tory Prime Minister, a Tory Chancellor or a Tory Business Secretary to keep us in the European Union. If you look at the best mayors of cities around the world, they've been non-tribal. That means working with whoever to get the best deal for London."
He adds: "London's population is 8.6m; most of us can see every day the benefits of the European Union. So I am staggered that Zac Goldsmith is campaigning to leave. Think of the benefits the European Union has brought to London. The cultural benefits, the social benefits – think about the friends, family you may have who are Portuguese, Spanish, Italian, German French – security, the economic benefits.
"You want to be the mayor of one of the world's leading financial centres. A leading, global commercial centre. The greatest city in the world. More than 500,000 jobs in London are directly dependent on the EU. 60% of the world's leading companies have their European HQs in London. Half of London's exports go to the European Union. Why would you be in favour of leaving the European Union?"
Khan also warns that his opponent's position is putting at risk millions of pounds of funding from Brussels for projects to help Londoners most in need. The capital is set to be allocated £465m over the next four years as part of the European Social Fund to support adult skills provision and offer help to young people not in education, employment or training (NEETs), as well as £176m as part of the European Regional Development Fund to support SMEs. Both packages, Khan says, are vital for the capital.  
"London is about to receive £641m to help people who are looking for work to find work, to help black, Asian, minority ethnic Londoners, to help disabled Londoners. Why would you be in favour of leaving the EU?
"It's a demonstration of Goldsmith not being fit to be Mayor of London, that he doesn't understand the difference the European Union makes to London's place as a cultural, financial, tech hub of the world.
"I've always said I've got nothing against Zac Goldsmith as a person. His background is irrelevant to the campaign. My criticism of Goldsmith is as a potential Mayor – he lacks experience, he's a serial underachiever, and he's bereft of ideas. And I'm happy to go toe to toe with him on policy, on our competing vision, about the challenges for London, how we address those, what we think are the opportunities for London and how we meet those."