David Cameron speech: 'Making work pay'
The Prime Minister made a speech on 22 April titled Making Work Pay, in which he defended the Conservatives' approach to welfare.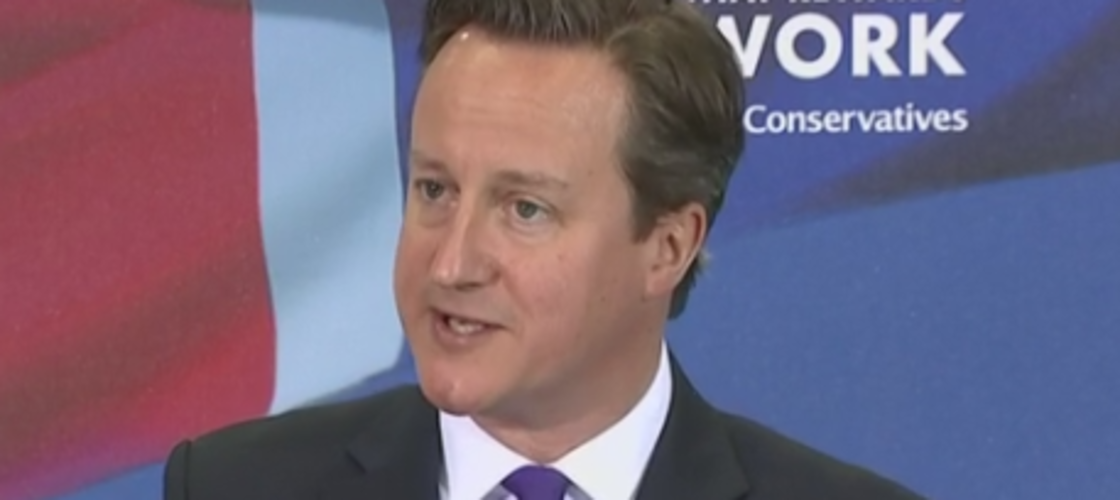 At our Manifesto launch last week, I said in British politics today it's the Conservatives who are the party of working people.
Today, I want to explain why. 
I want to set out the dreadful situation we inherited…
…where, in Labour's Britain, some of the poorest people faced some of the highest marginal rates of taxation…
…where couples were spending as much on childcare as one of them took home in earnings...
…where, quite simply, work didn't pay.
And I want to set out how we, the Conservative Party, are using all the tools at our disposal…
…the tax and benefit system; childcare and the Minimum Wage, to turn that around.
This goes to the heart of the country we are trying to build:
One based on the principle of something for something, not something for nothing…
…where those who put in, get out…
…where hard work is rewarded – where we make work pay.
But first, what we inherited.
We had a system where a single mum, working 15 hours and earning £87 a week, would have lost 76p for the last hour she worked. Why? Because all her benefits would be withdrawn for that extra hour, and she would have to pay childcare costs on top.
She wasn't alone.
Think of an out-of-work couple with two school-age children. If the dad started a Minimum Wage job for 30 hours a week, he would've effectively been hit by an 83 per cent tax rate for every extra hour he worked – again, because of the rate at which his benefits would be withdrawn.
Then there were the parents of a 3 and 4 year old – the dad earning £15,000, the mum on Minimum Wage working 30 hours a week. But if she wanted to work even one extra hour, she would lose money. That's right – her extra earnings would be swallowed up by childcare costs, taxes and losing her benefits.
That deterred people from work.
It stopped them taking on that extra shift – or taking on work at all.
And they weren't playing the system – they were victims of it…
…victims of a welfare trap laid by Labour, paid for by hardworking taxpayers.
That destroyed aspiration. It created resentment. And it was never meant to be this way.
Welfare was meant to be a safety net – not a web from which no-one could escape.
So when I hear Labour politicians bleating on about the same old Tories, not on the side of working people, I just think: some brass neck.
It was you who trapped the poor on welfare and widened inequality.
Yes, you Ed Miliband and Ed Balls who designed these systems that punished the lowest paid.
So don't you dare lecture us on poverty.
And know this – the true party of working people in Britain today is us, the Conservative Party.
And today I want to spell out the four big things we're doing to end the scandal of Labour's poverty state.
First, Universal Credit.
This is one of the biggest changes in our welfare system since its inception.
It rolls a baffling array of benefits into one – ensuring it always pays to work.
And rather than clawing back all your benefits the minute you set foot back in work, or the second you clock up an extra hour on the time sheet, it graduates that withdrawal.
Why is that important? Because before people were frankly scared of doing anything that would jeopardise the income that was supporting them and their family.
And what often put that steady income most at risk – perversely – was work.
But under Universal Credit you can be certain: every hour you work is worth your while.
It's already available across the North West.
By February next year, all Jobcentres will have it.
Be clear: Labour have said they will delay it.
So there's only one way to make sure we deliver Universal Credit: by voting Conservative.
Second, our rise in the Minimum Wage.
Why is that so important? Because this should be a country where you know that your hard work will be rewarded by a decent, fair amount…
…that you're better off in the office, on the shop floor or at the factory than you would be sitting at home. 
This year we had the first above-inflation increase in the Minimum Wage since the crash.
Today it's £6.50. Soon to be £6.70.
Next, we will reach our goal of £7.
By 2020, it's on course to be over £8 – and that's more than Ed Miliband promises.
Third, cutting people's taxes.
When we came into office, the personal allowance – the amount you could earn before paying tax – was £6,475.
We've increased it to £10,600.
That's given 26 million people a tax cut. It's taken 3 million of the lowest paid out of income tax altogether.
That goes to the heart of what we Conservatives believe:
That hardworking people should be able to keep more of the money they earn – because they, not Government, know how best to spend their hard-earned wages.
And it's only been possible because we've taken the difficult decisions, got the deficit down, and got our economy back on track.
And as we carry on doing that, I'm pledging this: the personal allowance will reach £12,500.
That will ensure everyone on the Minimum Wage working 30 hours a week does not pay any income tax.
That's right – the tax-free Minimum Wage guarantee, only under the Conservatives.
And that won't just be for now; it will be forever – because we'll write it into the law of the land.
Labour won't do this. In fact, they haven't ruled out doing the opposite – hitting low paid workers with higher taxes – and that would be disastrous for so many families.
Four, childcare.
For many second earners, work didn't pay because the cost of childcare was so high.
That left families with a real sense that they were doing the right thing – bringing up a family, working hard – but being punished for it.
So we introduced 15 hours of free childcare a week for 3 and 4 year olds and disadvantaged 2 year olds.
In the next Parliament we will double that for 3 and 4 year olds.
That's right – 30 hours of free childcare a week – worth £5000 to working families.
That means over 600,000 extra free childcare places available for families every year…
…9 million extra hours of childcare a week…
…and parents able to work an extra 78 days a year without any childcare costs – all by 2017.
So if you're a working parent with a one year old, you can rest assured that by the time they're 3, they'll be able to go to nursery for 30 hours a week – completely free.
And we have legislated for tax-free childcare for anything outside that. If you spend £10,000 on childcare, you will get £2,000 back – for each child.
How can we do this? Because we're fixing the economy.
Why are we doing it? Because we believe in helping families.
Look at Labour's offer: 25 hours a week; 190 fewer hours a year.
That means a Labour Government would cost working families £830 in childcare alone.
And because they're not increasing the rate they give providers, they may not be able to even deliver that.
Take all these things together, then look at the effects.
That single mum whose last hour of work used to lose her money, now not only keeps 62p of the last pound that she earns, she is also equivalent to over £430 better off each month – even before she takes on any extra hours. This is no accident; it's because we have brought in Universal Credit and increased the Minimum Wage, the personal allowance and support for childcare.
That dad I mentioned now takes home 31p instead of 17p for the next hour he works, and is £66 a month better off in his Minimum Wage job than in 2010 – again, thanks to Universal Credit, tax cuts and the increase in the Minimum Wage.
The other family I spoke about, with the mum who lost money for working an extra hour, now takes home 15p of the next pound she earns – and she is equivalent to £159 better off each month. When we introduce 30 hours of free childcare in 2017, she will take home 69p – and overall, her family will be equivalent to £330 better off than in 2010.
In other words, we're making work pay.
These examples tell you why we're doing all this.
I've said it before: I'm not in this job to be some high powered accountant.
I don't just want the lines on the graph to go in the right direction…
…I want lives to go in the right direction.
I believe passionately in reducing poverty.
And the best route out of poverty is this: work.
We've proved that.
Since we came to power we've got more people working than in our history.
The figures speak for themselves:
More women in work.
Lower youth unemployment.
Lower long-term unemployment.
900,000 fewer people on out of work benefits.
Crucially, 214,000 fewer households where children are growing up and no-one works.
Think about what that means. For the children. The parents.
And we are tackling poverty: there are 600,000 fewer people and 300,000 fewer children in relative poverty. 
Because Conservatives stand for a simple truth:
That true compassion isn't giving people a benefits cheque – it's giving them a chance.
So that is the choice at this election.
On one side, the so-called Labour Party.
The party that increased welfare spending by a half – but under whom poverty actually increased.
The party which just doesn't get that doling out more and more welfare to people doesn't help them – the incentives it creates can actually hurt them.
The party that's behind one of the biggest injustices of our age – punishing hardworking people on low incomes by letting welfare balloon, unemployment rocket and education seem pointless.
The Labour Party? Really? The name's an offence under the Trade Descriptions Act. 
And be clear: if they get back into power we will be back where we were before…
…back with the mum turning down a job offer because it's just not worth it…
…the dad making sure he doesn't exceed 16 hours' work a week so it doesn't affect his tax credits…
…the child who's asked what he wants to do when he grows up – and says "nothing".
Make no mistake – with the SNP holding a Miliband Government to ransom it would be even worse.
After all, what do the SNP care about families in England getting free childcare?
What do they care about cutting taxes? They're more interested in spending hardworking people's money.
What do they care about making work pay? They said on Monday they would stop Universal Credit.
What do they care about helping people across the UK into work? They don't even want a United Kingdom.
No – they want to expand welfare – failing more children, trapping more families and dragging Britain down.
So there's only one party that can stop this SNP/Miliband nightmare.
And that's the party that's transforming Labour's broken, wasteful, stifling system…
…that's giving more people than ever the dignity, the satisfaction, the security of bringing home a wage.
Yes – the party of work – the real party of labour – is us, the Conservatives…
…and that's why, for the sake of every family, every taxpayer and for the future of our country, we have got to get out there and win on May 7th.