"Downright pathetic" - Farron attacks Cameron and Corbyn's stance on Brexit
Tim Farron criticises Cameron and Corbyn for not aligning with the IN campaign, saying any other response "is not only inadequate – it's downright pathetic."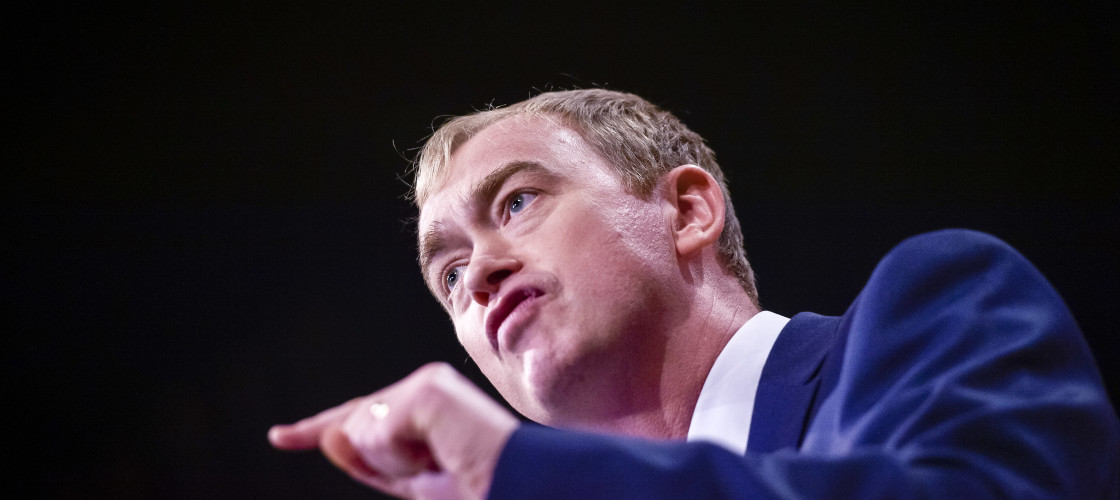 On my mantelpiece there is an old black and white photo. It's of my Uncle Morris at 14, the same age as my daughter is today.
It was taken in 1934 and in six years, he was dead, shot down over Beachy Head.
A generation ago there were nuclear weapons pointed at Britain on the soil of countries that today are our partners in the EU. Now we are sitting round a table together.
If these were the only reasons for staying in the EU they would pretty much clinch it for me.
What is the European Union? I'll tell you - it is the most successful peace process in world history.
As such events show we toy with European disunity at our peril. Being a supporter of the European Union is not always easy. Some of the institutional structures and decision-making are hard to defend – indeed in many cases I wouldn't want to.
But the case for Europe isn't about institutions. It's about partnership with our neighbours. It's about a vision of how we address the great challenges of the 21st century: economic globalisation and protectionism, resource depletion and climate change, terrorism, crime and war.
Look at the world today:
The turnovers of supranational companies exceed the GDPs of all but a handful of the richest countries.
The poor investment decisions of an American mortgage company can bankrupt nation states and cause a decade of global recession.
Crime and terror networks span not just countries but continents using global communications systems to work around national enforcement agencies.
And climate change and environmental degradation represent existential threats to humankind.
Is this a world in which to seek more isolation, less international influence, less access to the levers of power?
Or is this a world in which the only sensible choice must be to work with others to shape a compelling international response to international threats, as the only way, ultimately to protect Britain's long-term prosperity, security and values?
The Prime Minister knows this and yet rather than lead and make the case for continuing Britain's EU membership, he has chosen to take us on a ridiculous dance around the capitals of Europe in the pretence that he is wringing concessions in return for Britain acting in its own best interests.
And for whom is this dance?
Not the British people but his own backbenchers: a teasing fantasy to seduce them back into his camp, to protect not the interests of our country but his party.
For I have no doubt that ultimately – miracle of miracles – the Prime Minister will emerge 'triumphant' (sic) from his negotiations and declare that he has at last made it safe for Britain to remain in Europe. Yet every day he engages in this absurd charade he lends credence to those that argue there is a future for Britain tucked away in a mid-Atlantic fortress in glorious isolation at the heart of… nowhere.
Meanwhile, the leader of Her Majesty's Official Opposition actually buys into the case for withdrawal from the EU. Yet just like the Prime Minister he does not dare tell us what he really thinks for fear that he will split his party.
So he hides behind ambiguous language and partial promises, hoping that no one will call him on it. This is the champion of new politics, of honest speaking - and on the greatest political issue of our generation he will not even say what he really thinks!
Two leaders who refuse to lead. United by prevarication, in the name of party management.
Well that is not what Britain needs. Britain needs leadership.
So I challenge both David Cameron and Jeremy Corbyn to join me in saying once and for all they will stand up for Britain's interests in Europe, they will join me in the IN campaign, and they will give Britain the leadership it needs.
Any other response is not only inadequate – it's downright pathetic.
Because be in no doubt: whenever the EU referendum comes, however the other parties split, there will be one party united in its commitment to maintain Britain's place in Europe.
No ifs, no buts. That party will be the Liberal Democrats, the only UK-wide party committed to remaining in Europe.
Leaving the European Union would damage every community in Britain. It would be a killer blow to our prosperity, our security, our stability, our relevance. It would be staggeringly unpatriotic.
And so if you agree with me, you have to join me. Because outside the European Union, Britain will be weaker, more isolated and less able to defend its own interests, because this is a once in a generation threat to our economy and our well-being and because, as the other two party leaders have now made clear, you can't leave it to anyone else.