Theresa May outlines Tory plans to combat fundamentalism
Theresa May today outlined the Conservatives' plans to tackle fundamentalist Islamism as she warned extremists that "the game is up".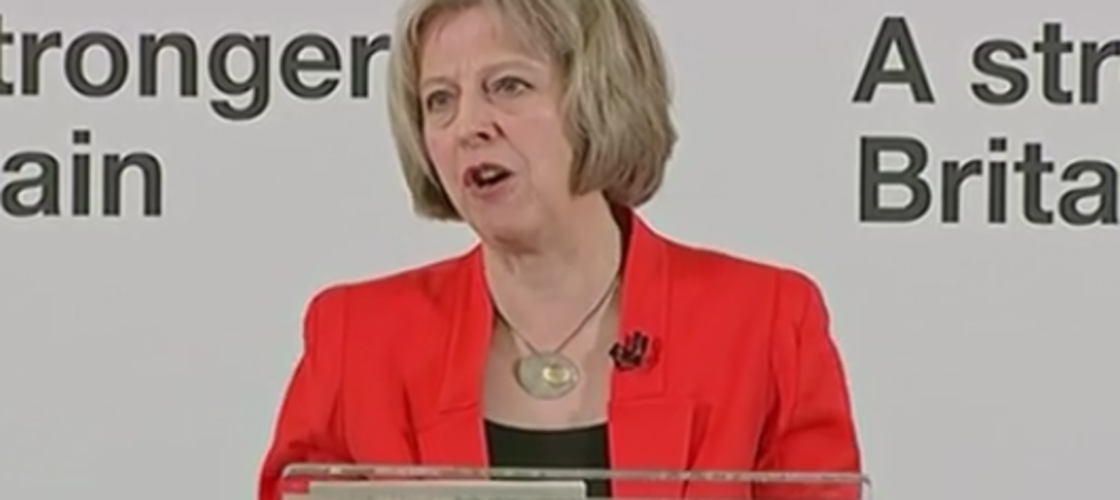 The Home Secretary argued that extreme views need to be "tackled head on" and urged moderate Muslims to speak out against the "hatred, bigotry and ignorance" of Islamist extremism.
Speaking in central London, she also outlined Tory manifesto plans to introduce banning orders for radical groups and hate-preachers.
_________________________________________________________________________
RELATED CONTENT

Clegg university extremism row 'one of the worst of the Coalition'


David Cameron 'considering extremism law review'


Boris criticises Muslim group over extremism response


Human rights vs the surveillance state

_________________________________________________________________________
In an appeal for unity, Ms May said that British values would win out against the visions of radical Islamists.
"Theirs is a negative, depressing and, in fact, absurd view of the world and one that we know in the end we can expose and defeat," she argued.
COUNTER-EXTREMISM MEASURES
Among the measures proposed by Ms May were assessing the application of Sharia law in the UK, establishing a national database of school governors, reviewing the inspection arrangements for further education colleges and increasing the response to extremist prisoners and prison gangs.
Ms May also hopes to undertake a full review of citizenship laws and make successful applicants sign to say they accept British values, issue closure orders for premises which host extremist speakers and seek partnerships with social media providers to fight extremism.
A Conservative government would also set up a "Helping Isolated Communities Program" which would include support for those in such communities to learn English, and refuse asylum to extremists posing a threat to national security.
Ms May called for an "emphatic rejection of the idea that in a liberal society anything goes", stressing that "in a pluralistic society like ours there are responsibilities as well as rights".
She said the extremists' view of the world is "negative" and "absurd" and must be defeated, and that "for too long we have let the extremists define the 'them and us'".
She said to those who choose to reject British values: "The game is up. We will no longer tolerate your behaviour. We will expose your beliefs for what they are… Where you seek to divide us we will stand united… and together we will defeat you."
'TOO LATE'
Shadow Home Secretary Yvette Cooper told Radio Four's World at One show that Ms May had made the speech too late. 
She said: "I just think at a time when the terror threat has increased, the Government has simply not been doing enough for five years… I think this speech is just too late."
RESTRICTIONS 
Liberal Democrat MP Norman Baker, speaking on Daily Politics, shared some of the Home Secretary's concerns, but thought her approach may not be the right one.
He said: "I share her concern that Sharia law is being adopted in some areas... But the idea to approach it head-on may not get the best result... it may have a contrary effect."
He suggested new regulations could lead to unreasonable restrictions: "I remember back in the days when we had to clampdown on the IRA and we ended up being restricted with what we could say on TV".
Meanwhile, several Tory MPs have called on Ed Miliband to distance himself from comments made by Lord Prescott, the former deputy prime minister, in his Sunday Mirror column.
The peer said the UK needed to "face up to the fact" that British foreign policy had contributed to the decisions of young people who went to fight with Islamic State.
LABOUR ATTACK
During Home Office questions, Labour ministers accused Ms May of retreating five years on anti-radicalisation measures, Ms May deflected the accusation:  "When we came in to government we found that the last... government was funding extremist organisations; members of the Labour Party we're standing on platforms embracing extremist hate preachers. We take a very different view on this side of the House."